High levels of complexity, many moving parts, multiple stakeholders and a liberal dose of intense pressure; it is any wonder major/mega project delivery is an art, not a science.
Major project delivery requires carefully nuanced:
Teamwork
Risk identification and management
Robust project governance system design, processes and implementation
Commercial due diligence
Intelligent commercial negotiation, on a best-for-project basis
Risk allocation and incentive design
Preparation of suitable contract documentation
Best-for-project contract administration
Proactive issues management
Audit and assurance to ensure value for money
Relationship management
Informal and formal dispute resolution
Our team has worked on some of the largest and most complex projects in the country, often on a fully embedded basis. Our experience spans most sectors, including aviation, mining, oil & gas, public infrastructure, commercial, residential and mixed use, master planned projects.
We provide project leadership enablement and collaborative embedded legal and commercial support to ensure our clients' projects are delivered on time and on budget.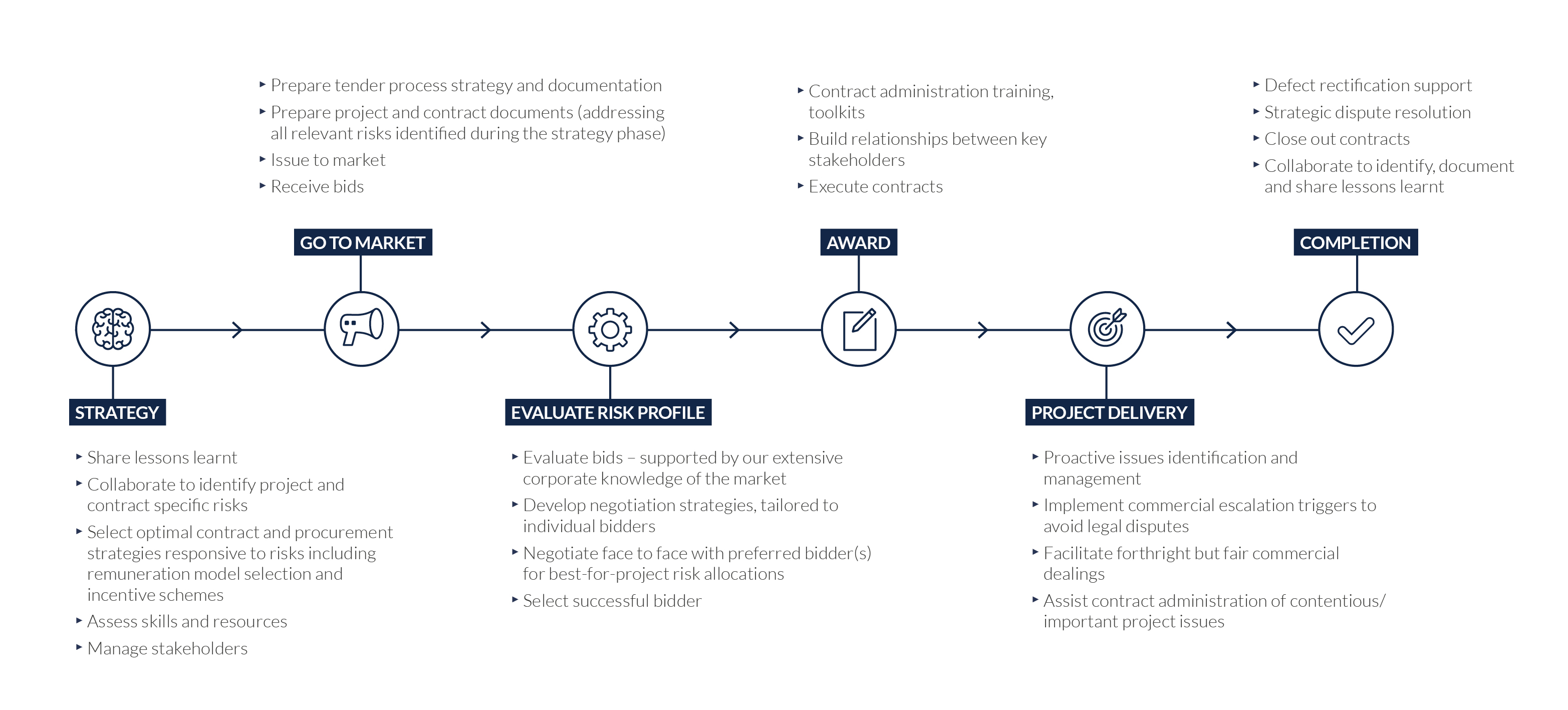 Some clients engage us for discrete parts of this process. Many partner with us for their entire project's delivery.
Our experience spans all types of project delivery methods and cost models. We have worked seamlessly with some of the world's leading project management and EPCM firms as members of our clients' management teams.
Our team includes leading infrastructure, construction and procurement lawyers who advise project owners and major contractors and who prepare specialised contracts with appropriate risk allocations for the delivery of all types of major projects, including:
Airport terminals and runways
Sporting stadia
Mine expansions and new mine developments
Major equipment supply
Dredging works
Transport infrastructure
Wind and solar farms
Dams
Wharves
Underground tunnelling and mine expansion
Power stations
Oil field services contracts
Residential tower developments
Major civil works
Commercial developments
Major house and land developments
Mixed-use developments
Our team also includes some of the country's most experienced major project dispute resolution lawyers who deal with project disputes requiring a formal response. They advise and resolve disputes in a strategic, best-for-project and effective way including, where necessary, via negotiation, mediation, adjudication, expert determination, litigation or arbitration.
We understand the ingredients to successful project delivery and provide support to our clients' project leadership and management teams to see it achieved.